Happy Friday Guys!
I feel like I have been dropping a lot of big news on you lately... but I have more! It's all been a lot for me to take in too, but every bit of it is incredibly exciting. I knew 2018 was going to be a year of wonderful things and big change, but I had no idea how much so!
Our little Miller family is growing this summer, and before then, Denver Darling is making some big time changes too! We are opening our first storefront in just a few short weeks!! For local friends it is in Cherry Creek North (on 3rd between Columbine and Josephine) and non local friends we will also be online soon!
Around the time I first started blogging (almost 3 years ago... yikes!), my dear friend (now business partner!!) Molly Fortune, mentioned that we should someday open a store. It would focus on classic, feminine clothing like we both love, at an accessible price point and unique gifts... a one stop shop, if you will! We developed the concept over countless brunches and happy hours and always saw it as kind of a farfetched idea. After 14 weddings and countless events last summer that left me rummaging through my closet and online dress binges at 12:00am only for them to arrive and the quality to be poor - color wrong - and fit off; which would lead to a busy day of last minute shopping that I just didn't have time for only to go home and settle on an old LBD from 8 years ago. I started thinking that we were really in need of a store that catered more to the young woman with a busy and fun loving lifestyle in Denver.
Molly and I started hearing similar stories from a lot of our friends and began thinking more seriously that we may be in need of a shop that carries more classic clothing and occasion dresses for every event that may pop up (brunch - black tie and everything in between) and an assortment of unique and fine gifts for the bride, baby or hostess to make life easier on us gals with limited time.
We still had sort of a 5 year plan in mind when we stumbled on the perfect place. A little house in the middle of Cherry Creek, and we knew it was the perfect place to take the leap and call it Denver Darling's first home. In addition to a space to house apparel and gifts, the outdoor space and upstairs area provides a unique venue that we hope to share with friends and nonprofits that we love for special events.
We are not sure what we we were thinking, but neither Molly or I got before photos of our little house #badblogger, but here is a photo of my dad taking snap chats (he crushes snapchat) of the original and our new paint job. We are thrilled with how it is coming along! We obviously still have some work, like signage and new awning, but it has come a long way in a short time. We have a few more updates before we open in just a few short weeks and now that the secret is out I will definitely be sharing all of them with you as they come along!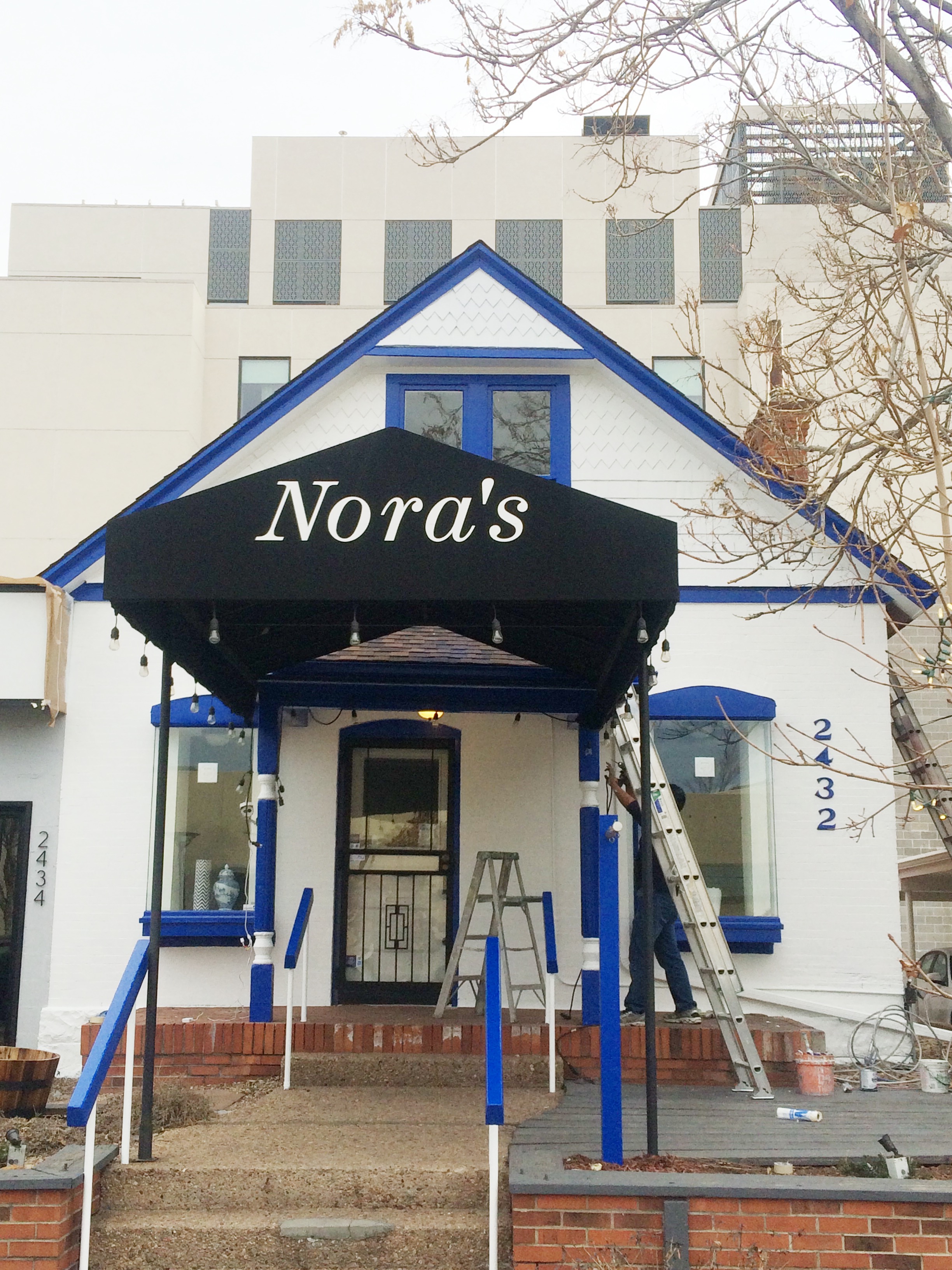 I shared a few sneak peeks of things we will be carrying in the store over the past few days (below too!)... I would have loved to preview a cocktail dress or two, but things just don't fit the way they used to right now ;). I am wearing a gown that we just got in assuming I don't grow too much between now and then. We would love to hear what brands you love and things that you would love us to carry as we get started!
Wish us luck!! We will be sure to keep you posted these next few weeks with all of the details!! Can't wait to see you all in the store soon!
xo
Abby & Molly